heaterSteam: electric heater steam humidifier
The ideal humidifier for technological or medical applications, where precision, reliability and a totally sterile environment are required
Description
---
heaterSteam combines the most advanced humidity control technology with the potential of connectivity, offering a product that is unrivalled on the market in terms of precision, reliability and simple management.
It can operate on both drinking water and demineralised water, for virtually maintenance-free operation.
The new colour touch screen display improves the user experience, offering all unit information simply and immediately.
heaterSteam is available in two versions: process and titanium.
heaterSteam process has heaters made from Incoloy® 825, a highlyresistant material that allows operation in complex conditions, even when feedwater quality is not controlled.
heaterSteam titanium is the world's only humidifier with titanium heaters. The reliability of titanium makes this the natural solution for applications where service continuity is crucial. In particular, it can operate with treated water of any quality, even extremely aggressive water with conductivity below 1 μS/cm, and softened water down to 0° fH.
Technical features
---
​Reliability and total protection against overheating;
Precision ± 1% RH, full-range modulation;
Maximum hygiene;
Models from 2 to 80 kg/h.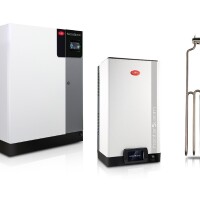 Request information for:
heaterSteam: electric heater steam humidifier