humiSonic direct
humiSonic direct: a complete solution for installation directly in the humidified environment
Description
---
The features of the new humiSonic direct highlight its versatility and make it suitable for every type of application: datacenters, museums, offices, printing facilities and cold stores are some of the typical uses, thanks to its compactness and efficiency.
humiSonic direct, installed directly in the room, controls relative humidity with minimum power consumption.
humiSonic direct encompasses, in one single solution, the control panel/power supply and air humidity probe. It is therefore a fully stand-alone unit, ideal for both new applications and retrofit installations.
Technical features
---
Energy saving: just 10% of the power consumption of steam humidifiers;
Reliability: 10,000 hours of uninterrupted operation guaranteed;
Precision: relative humidity control of ±1% on the set point;
Absorption efficiency: the droplets, just 1 µm in size, evaporate instantly;
Easy installation: humiSonic direct only requires a power and feed water connection to start running;
Hygiene: stainless steel components, no water recirculation and periodical washing cycles.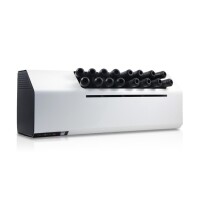 Request information for:
humiSonic direct