pCO sistema: CAREL's proposal for programmable controllers
pCO sistema is the solution CAREL offers its customers for managing HVAC/R applications and systems
Description
---
pCO sistema consists of programmable controllers, user interfaces, gateways and communication interfaces, and remote management systems to offer the HVAC/R market a control system that's powerful, flexible and easy to interface to the most commonly-used building management systems.
pCO sistema is very reliable and can be easily customised to differentiate the air-conditioning or refrigeration unit control system.
Several sizes are available, based on the number and type of inputs/outputs, whether the Built-In terminal is fitted and the size of flash memory provided.
Technical features
---
​Interface: The pCO sistema terminals are available in panel or wall-mounted versions, with LED, alphanumeric and graphic LCD displays, allowing the messages to be shown in Chinese, Cyrillic, Arabic, Japanese.
Communication: It can interface to the more widely used communication standards, either directly or via gateways. It can also interface to intranets or the internet using a gateway that converts the CAREL protocol to TCP/IP Ethernet™ 10 MB/s. All the pCO sistema components can be connected without requiring additional cards to pLAN networks for exchanging data and information.
High technology: A 32-bit microprocessor guarantees high program running speed including control of faster transients. The parameters can be protected by various password levels.
Programmability: CAREL 1tool system development system allows customisation of the software.
Applications: The programmability of the pCO series means that applications are possible for chillers, air-conditioners, shelters, roof top units, heat pumps, compressor racks, AHU.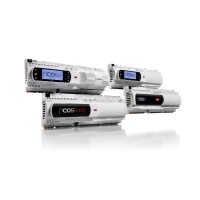 Request information for:
pCO sistema: CAREL's proposal for programmable controllers