New heating pumps by Aertesi
ENERGIKA PLUS MAX - High efficiency reversible air-water heat pumps for the production of high temperature hot water (R407C)

The air-water heat pumps in the EMERGIKA PLUS MAX series are designed to provide heating, air conditioning, and domestic hot water for small and medium sized homes and commercial premises.

The ENERGIKA PLUS series is designed to meet heating and cooling needs in all seasons: winter heating, summer cooling and the production of domestic hot water throughout the year.

- Energy class A for all models (Eurovent classification);
- Ample operating limits in summer and winter (-20°C);
- Facility to produce domestic hot water at up to 65°C;
- Low noise operation;
- Presence of subcooler to prevent icing up of the lower section of the coil.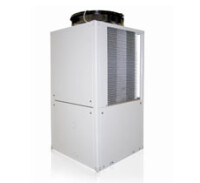 Request info about this focus
New heating pumps by Aertesi