Air Purification Systems
Aertesi sanitization systems FILTRA-SAN, SANI-FAN and BIOX-AIR
Description
---
Aertesi has developed innovative systems for air purification applied to its products for air treatment, to ensure health and safety and provide equipment that ensures 100% clean and healthy air.
A line of systems that comes from the awareness that bacteria are very easily hidden inside the terminals, especially due to the presence of water in the condensate tanks.
Aertesi proposes three systems for air purification:
- FILTRA-SAN for filter sanitization,
- SANI-FAN for the sanitization of the surfaces inside the fan-coil,
- BIOX-AIR for the sanitization of aeraulic channels.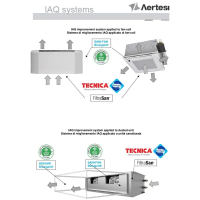 Request information for:
Air Purification Systems