ACHPS system by Aerfor
A high performance system, an ideal replacement for the auxiliary coil.
Description
---
Aerfor innovative system allows to use one single coil in a 4 pipe system within the fan coil series FNL, FIPA and CASSETTE.

By this way, the main coil with 3 or 4 rows can receive water from the system at lower temperature than usual applications, in order to ensure an equivalent or even higher thermal capacity.

By using ACHPS device, it is always possible to lower the temperature of the water supplied through condensing boilers or heat pumps.

This allows up to 25-30% of energy saving or up to 20% decline in the cost of installation.

Thanks to the special actuators with dedicated micro, the ACHPS system by Aerfor can be used in association with all the thermostats available in the market.

In case of maintenance, and in order to keep cooling and heating water circuits indipendent, it is necessary to close the shut valves.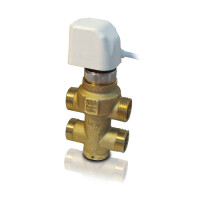 Request information for:
ACHPS system by Aerfor