Sluping roof - Semi integrated system
Description
---
Product line: Atlante 45

Characteristics:
The semi-intergrated system is the most used in the residential facilities or on pitched roof of little or medium dimension. It´s composed by an extruded aluminium mounting rail (45x45 or 40x40 mm) hooked up a steel bracket (made in stainless steel or galvanized steel).
The main version in this kind of installation is represented by the type of roofing (ex. curved tile, tile, plain tile) and consequentely by the kind of bracket for roof hook used.
Alusistemi provides brackets for roof hook with triple adjustments, to facilitate the installation of system even under the most difficoult situations. If these adjustments were not sufficient, Alusistemi can design and produce customized components to provide the right elements that allow to overcome the obstacle. The individual units can be fixed by panel fixing aluminium clamps hooked up through fasteners screws and eccentric blocks.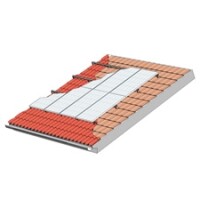 Request information for:
Sluping roof - Semi integrated system