Galletti EVO-2-TOUCH
Microprocessor controller with remote touchscreen user interface
Description
---
The evolution of Galletti microprocessor controllers has now led to a common platform for all "comfort" products in the Galletti catalogue, resulting in refined strategies for controlling and adjusting indoor units and minimizing the cost and impact of installation thanks to the design, as the user interface is separated from the power components.
The remote touchscreen user interface EVO-2-TOUCH matches with circuit board EVO BOARD.
Intelligent interface
The various screens are designed to make human-machine communication intuitive. Each page contains a few essential items of information that allow the consultation of the unit's main operating parameters and enable the initial control configuration according to system requirements.
Smart touch
Touch screen technology is another element whose goal is to simplify the user experience. The tap and swipe functions make the control experience similar to that of your smartphone.
Technical features
---
2.8'' capacitive touch screen display
Integrated temperature probe
Low-voltage power supply drawn from the power component
Wall mounted or ART-U on-board installation
Designed for the main electrical connection boxes
User-friendly
Aluminium foil and polyethylene frame with various chrome plating options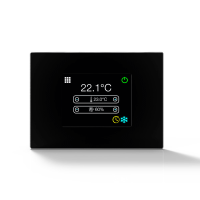 Request information for:
Galletti EVO-2-TOUCH