Rossato transforms your smartphone into an advanced thermostat thanks to the CSC system
CSC Rossato is the building automation system that offers thermostatic and home automation control for buildings of all kinds
Il CSC Rossato thermoregulation system (Clima Smart Control) allows the monitoring and remote control of systems for all types of buildings, from the simplest to the most complex.
In addition to managing hot / cold generators, dehumidifiers and controlled mechanical ventilation, CSC is a system of building automation which integrates perfectly with other home automation systems for controlling lights, shutters, etc.
It is a complete system with control unit, elegant, intuitive and easy to use touch screen user interfaces, temperature and humidity sensors with 1-Wire, Modbus and Z-Wave communication.
Climate management from smartphone

Remote air conditioning managementThe CSC app, available for IoS and Android, allows you to transform your smartphone into a personal digital thermostat to be able to control and manage the home at any time and from any place.
The dedicated Cloud allows the remote control of the systems via smartphone, PC and voice commands. It is also possible to view consumption trends, receive alarms and perform maintenance.
From the various devices you can:
Switch the system on or off
Set temperatures for each room
Program switch-on and switch-off times
Make the change of season from summer to winter
Program controlled mechanical ventilation

​All consumption in real time
Thermal electricity managementThe heat metering is a tool of great interest for the containment of energy consumption. In fact, it makes the user aware of consumption and consequently the thermoregulation will be managed more responsibly and efficiently.
For the metering of thermal energy, just choose the CSC control unit with interface for the thermal meter and combine the thermal energy meter.
Single-phase and three-phase digital energy meters with display, expandable or not, are available for electricity metering.
The remotely managed thermoregulation
Remote management of the thermoregulation systemThe CSC system allows a 360 ° system monitoring which, in addition to visualization, also allows remote supervision of the system, via smartphone, tablet or computer.
Thanks to the cloud service it is possible to:
Configure the system
Test and optimize the system
Carry out multi-user assistance
In this way the assistance center can remotely intervene on the system at any time.
Incentives for advanced thermoregulation
Building automation incentives thermoregulationThe CSC thermoregulation system is part of the IoT systems for the Superbonus: in fact, it meets the legal requirements for obtaining tax deductions Eco-bonus at 65% e Super bonus at 110% thanks to the multimedia channel and the monitoring of electricity and heat consumption.
CSC Rossato meets the requirements of the decree:
Show energy consumption through multimedia channels by periodically providing data
Show the current operating conditions and the set temperature of the systems
Manage the switching on, switching off and weekly programming of the systems remotely.

Rossato CSC thermoregulationWith Rossato CSC make your system Smart
Remote management of the system
Time slots programming
Consumption control
Remote assistance
Simple to install
Expandable thanks to Wi-Fi devices
Compatible with home automation systems (Google - Alexa)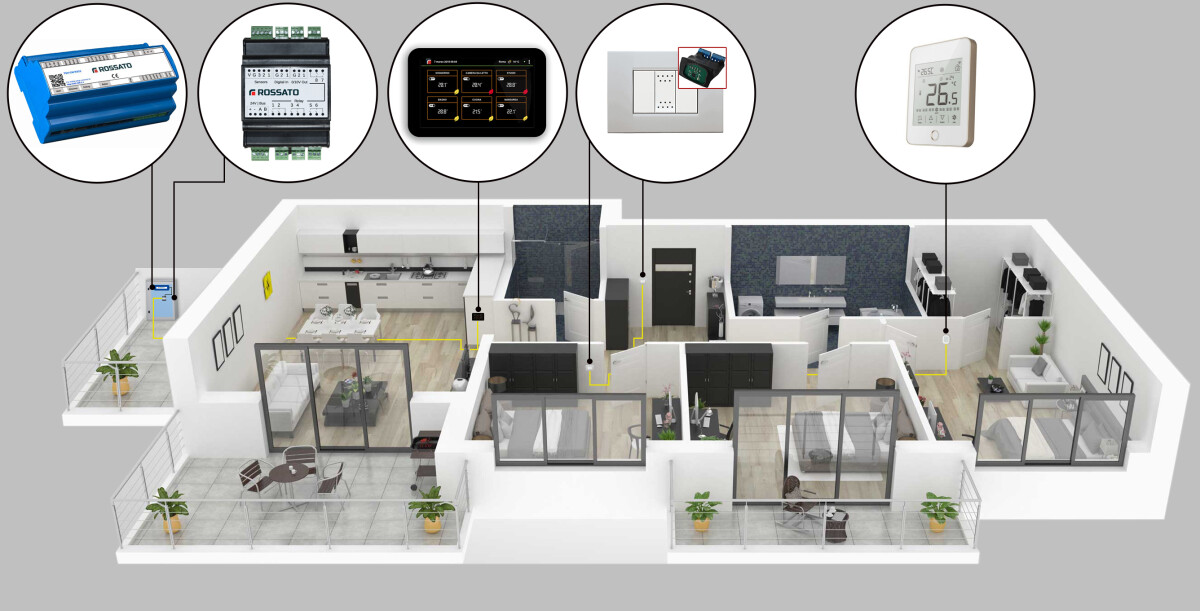 Request info about this focus
Rossato transforms your smartphone into an advanced thermostat thanks to the CSC system