Electronic expansion valves - ExV
CAREL Electronic Expansion Valves
Description
---
Carel electronic expansion valves are designed to meet any cooling capacity requirements up to 2000 kW in air-conditioning and refrigeration applications, and stand out above all for their excellent flow control, even at lower flow-rates.
Carel expansion valves have three main strengths: reliability over time, very precise control and perfect refrigerant tightness.
The valves are certified in accordance with the main national and international standards; compliance with these standards guarantees maximum quality of both the products and the manufacturing process, as well as continuous commitment to improving the environmental management system.
Other important features that characterise Carel valves include:
Removable external stator
Simplified movement mechanism, with direct transmission from the rotor to the movable element
Use of high quality materials
Perfect tightness when valve closed
Significant reduction in energy loss when starting the system
Very wide range of models and sizes available, to meet all systems requirements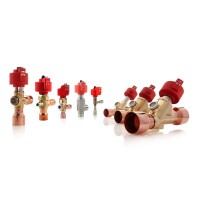 Request information for:
Electronic expansion valves - ExV