FreeAir
Free cooling for base stations
Description
---
Wherever shelters and switch cabinets already have conventional comfort air conditioning, the addition of a Free-Air cooling unit makes a huge difference to operating costs.
The system module takes over the control of the existing comfort A/C units and adds economical direct free cooling to the energy-intensive compressor cooling function. Whenever the ambient temperature allows, Free-Air is activated and the comfort A/C units are switched off.
Free-Air has been thoroughly tested, is simple to install, ready for operation immediately and easy to maintain.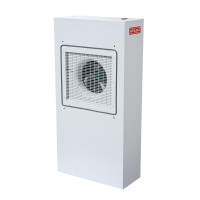 Request information for:
FreeAir