• 09.07.2015
Range Apros Dynamic Two: chimney systems for outdoor
Dynamic Two, Dynamic Two Copper, Dynamic Two Black Color and Copper Color are chimney systems in double wall stainless steel for outdoor, which belong to Apros range of products.
Features such as high temperature performance and long service life, ensure the safety and quality of these metal chimneys.
Simple and quick to install or uninstall, the products of line Dynamic Two can be installed and serviced only by trained personnel.
Introduction
Dynamic Two, Dynamic Two Copper, Dynamic Two Black Color and Copper Color are double wall metal chimneys, which are insulated with rockwool that is blown with an automatic line of precision: it enables a controlled filling in the whole area between the two walls of the chimney. The density of the blown rockwool is 180 Kg / m3, which guarantees a superior thermic resistance compared to normal thermal insulation material at 90 Kg / m3 and a long duration in time.
These properties provide significant thermal performance, it can be seen from the distance G50 (50 mm from inflammable wall) obtained by thermal tests.
The whole is closed from both sides with two special closing diaphragm rings. This particular ring allows to avoid any thermal bridge between the elements and to eliminate the possibility of condensation inside.
Dynamic Two, in its standard series it is provided with an inner wall in stainless steel 316L and an outer wall in stainless steel 304.
Dynamic Two Rame, on the contrary, is provided with an inner wall in stainless steel 316L and an outer wall in Copper.
Dynamic Two Black Color and Copper Color, finally are provided with an inner wall in stainless steel 316L and an outer wall in painted electrogalvanized steel.
NB: the raw material which is used for manufacturing the pipes are of European origin and CE marked.
Certification
The whole series Dynamic Two is certified by the inspection institution for the CE Kiwa Cermet Italia marking, according to the rule EN 1856.
Control and accuracy
Every single working and production phase is constantly subjected to strict controls. The elements are tested with the "go-no go" system. Thanks to this system of production and control, our products are equipped with precise connections that allow simple and immediate installation and uninstallation of the product.
Safety
The line Dynamic Two is equipped with a connection system called click-clack, which is studied and achieved by Apros: it ensures a secure coupling between the elements even in extreme installations (for example,  ducting of masonry chimneys, etc...).
News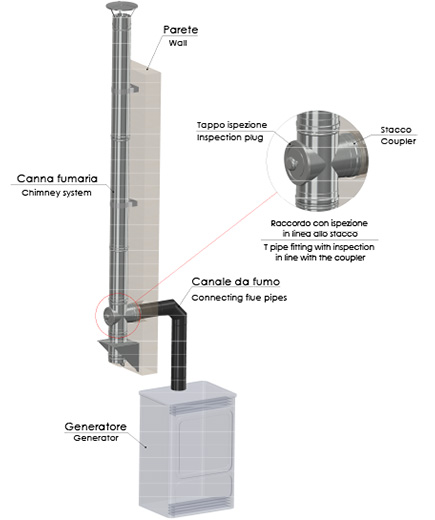 Thanks to the continuous and remarkable investment in research and development, Apros has the ability to deal with any request to manufacture special parts.
An example among all is the special T pipe fitting in double wall with inspection, which is in line with the coupler, and allows the cleaning and maintenance of the duct even in conditions of reduced space.
The special inspection plug in stainless steel allows the system to withstand extreme temperatures even up to 1000°C, and to comply with pressure tightness above 200 Pa (P1).

Classifications/Performance
Technical classifications according the rule UNI EN 1856:
T200-P1-W-V2-L50050-O30 with gasket;
T600-N1-D-V2-L50050-G50 without gasket.
The products of the line Dynamic Two are supplied in a wide range of diameters from 80/130 to 350/400.
Dynamic Two, Two Copper, Two Black Color and Copper Color are, moreover:
Tested to temperature T200 (250°C) with gasket and T600 (650°C) without gasket, to cover all needs, from  the condensation system to the system wood which is more challenging as operating temperatures (400°C).
Tested in pressure P1 (positive) for any gas system/ installation which is powered by a distribution network, or systems powered by solid biofuels where such a tightness is required.
Tested in wet W and dry D conditions, to cover all needs ranging from the vapors tightness of condensation boilers to the dry operation of the systems wood and other biofuels.
Tested to corrosion V2, to cover all needs starting from condensation of condensation gas boilers to condensation formed in the systems operating with solid biofuels.
Thermally tested G50 in aired conditions, Dynamic Two when installed near to sensitive materials (ex. Wood) can stand to 50 mm from them.
It is declared L50, stainless steel 316L into contact with fumes.
It is declared 050, it is the thickness of the metal wall into contact with fumes 0,5 mm.
Reference Standards
UNI EN 1856 : Chimneys Requirements for metal chimneys (manufacturing practice of the pipe);
UNI EN 1443 : Chimneys General Requirements (installation);
UNI 7129-3 : Gas plants for domestic and similar uses supplied by network "Design and installation"
UNI 10683 : Heating appliances fired by wood or other solid biofuels "Check, installation, control and maintenance"
UNI 10847: Maintenance and inspection of plants fired by solid and liquid biofuels.
Installation
The installation of Apros products can be performed only by qualified personnel, using the correct registration of the plant according to the rule UNI EN 1443.
Cleaning of Apros metal chimneys must be performed only by qualified personnel according to the rule UNI 10847.

Request info about this dossier
Range Apros Dynamic Two: chimney systems for outdoor