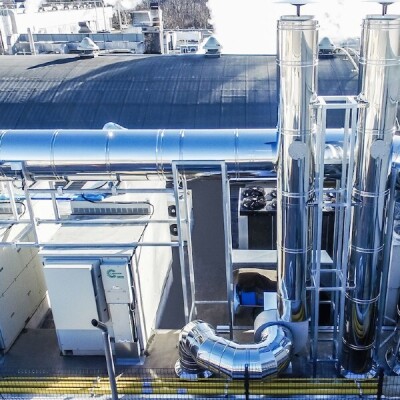 Ibt Srl
IBT was established in Treviso in 2000 as a firm specialising in the building automation sector. It develops, manufactures and manages state-of-the-art solutions for energy self-production, telecommunications and connectivity. Its systems are designed for both small- and medium-sized businesses as well as large domestic, commercial and industrial facilities in Italy and abroad.

Our mission: to recognise the potential offered by the latest cutting-edge technologies and to transform it into reliable certified integrated systems. These systems are not designed to meet just one need, but to open up a whole new world of opportunities. For development, integration, optimisation and savings. IBT. We innovate to resolve. We innovate to grow.
IBT is primarily a group of people working to help other people. We are a team of highly specialised professionals with outstanding engineering expertise. It is our policy to invest continuously in study and research and develop a young, dynamic and flexible approach in the different sectors we work in. IBT owes its highly competitive nature to the resources of this team and to the importance it invests in each and every client. We develop a positive working relationship with each of our clients in each of our projects and this enables us to come up with tailor-made solutions and to identify the most advantageous viable prospects for development.
Satisfying the needs of our clients is our forte. Anticipating them is our challenge.
Cogeneration: Unite. Optimise. Save.
The rise in energy costs and the growing phenomenon of electrical blackouts have brought the energy issue to the fore and people are actively seeking alternative reliable forms of energy. IBT is the exclusive partner of Capstone Turbine Corporation, whose headquarters are in California, and can provide cogeneration solutions for all. Capstone turbines generate two forms of energy - electricity and heat - usually as hot water which is then used in heating systems or, in the summer, with absorption chillers to produce cooled water. There are considerable advantages to cogeneration: greater safety and continuous power availability, more rational use of energy resources and a drastic reduction in consumption.
Lower costs and fewer harmful emissions. Higher profits, more savings.
Refrigeration: A successful transformation.
In the past it was difficult to recover waste energy so it was disregarded and lost. Today we have the technology to convert it into energy which can then be put to good use. IBT has this technology. IBT is the exclusive European distributor of the Century brand from South Korea, one of the leading producers of absorption chillers in the world. IBT supplies systems whereby heat energy produced by cogeneration or left over from industrial processes is transformed into cooled water, which is then reused for air conditioning. Systems are delivered standard or tailor made to fit our clients' specific needs.
This innovative process is attracting more and more attention. By investing in energy efficiency, we create a more comfortable working environment and also respect the environment.
Integrated domotics: An intelligent future.
Our goals: to improve performance and cut consumption. Integrated domotics is one way of effectively achieving these goals and IBT is a pioneer of the most recent applications in this field. Each of the energy self-production systems designed by IBT can be installed in buildings and managed by an integrated automated system and devices. For complete, practical, simplified control of all energy flows: electrical, heat and cooling.
Evolved interaction: an intelligent future which more and more clients are choosing.
A success story.
The significance of IBT's applications and systems is also shown by the fact that it is a member of various organisations in the sector including Anima, Confindustria, Climgas, Italcogen, Cogeneurope, AIEL, Assotel and CEI. Over the years a large number of leading companies and organisations have benefited from our expertise and we have installed important systems all guaranteed by a certificated structure in accordance with the ISO 9001 2008 Quality Management System, 1st level authorisation under Italian Ministry of Communications Ministerial Decree 314/92, SOA certificate.
The high quality of IBT's solutions has helped increase the competitiveness of our clients. And if they are successful, so are we.
Send a message to Ibt Srl
Fill out the form to receive product details or any other information from the Company