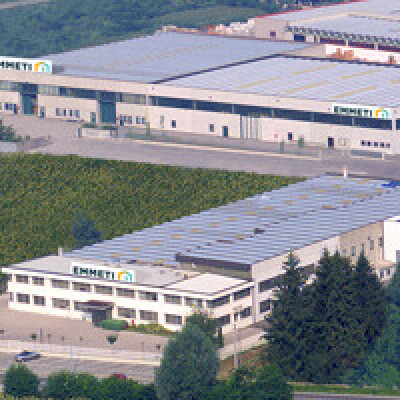 Emmeti Spa
VIA Brigata Osoppo, 166, 33074, Vigonovo Di Fontanafredda (PN), Italia
Phone. 0434 567911
Visit the website
Contatta
Specializzati in Termoidraulica e Climatizzazione
EMMETI works since 1976 in plumbing-heating and air conditioning field by providing increasingly complete and evolutionary solutions. ISO 9001 certified production of ball-valves,
radiators valves
, brass fitting and
multilayer pipes
allows Emmeti's group to be one of the most complete companies in this field. Production items together with condensing boilers, floor insulated panels, tanks and solar panels, inverter heating pumps, heat metering systems and
air conditioners
, all items produced in direct and exclusive way, compose Emmeti's systems offered and supported by professional designers, installers, qualified assistance centres.
EMMETI MISSION
: Solutions to regulate the flow of water and air while respecting the environment and ensuring comfort
EMMETI STORY:
1976
: Emmeti S.p.A. is founded and begins working in the marketing of components for heating systems.
1984
: direct production begins of some items in the field of valves and fittings, which until then had only been marketed
1989
: plumbing and heating are joined by the marketing of air conditioning, where we soon become one of the leaders in Italy.
1992
: Emmeti begins expanding abroad, with the founding of Emmeti Iberica S.L in Murcia, the subsidiary that distributes products in the heating, plumbing and air conditioning range to about 1,700 wholesalers throughout Spain.
2001
: Emmeti products enter the French market with the constitution of Emmeti Fiv France S.a.r.l., located in Evry, near Paris. It was founded to provide quick sales and service for all the products of the Group to more than 500 clients in France.
2003
: Sfera Commercial Importadora Ltda is purchased. Located in San Paolo, Brazil, it distributes through 55 agents products for plumbing and heating to over 8,000 clients in Brazil.
2004
: Emmeti UK is founded in Burford in Oxfordshire, as a logistics base for the Group on the British market for some heating and plumbing products with a highly technical level.
2007
: Emmeti North America is founded in Toronto to enter Canadian and North American market with some heating and plumbing products.
2008
: PM & Partners, equity investment company, enter into partnership with Emmeti Group
2012
: Emmeti Group is on location worldwide in 65 counties thanks to a steady turnover growth and market shares due to continued investments in quality, innovation and its commercial strength.
2015
: The acquisition agreement of Emmeti Group by
Rettig ICC
Group announced on 10 November 2015 was successfully completed on 30 November 2015.
The success achieved by the
Emmeti Group
is confirmed by the constant growth in turnover and market share in its fields, but especially by the favour that Emmeti solutions have gained from its clients in Italy and around the world.
Send a message to Emmeti Spa
Fill out the form to receive product details or any other information from the Company