WALL-MOUNTED ECO HOT WATER Heat pump heaters EMMETI 2018
Air-water wall-mounted heating pump for domestic hot water.
Description
---
Eco Hot Water mod. EQ1015W wall-mounted Heating Pump of compact dimensions is easy to be installed by connecting the electrical socket and the water inlet and outlet pipes.

Eco Hot Water takes heat from the outdoor environment and transfers it to the water into the tank reducing in this way energy costs relevant to the domestic hot water heating.

For replacement of electrical water heating systems in seaside areas.
Technical features
---
Water boiler with 100 litres capacity, made of S235 JR steel withinternal inorganic coating made according to the DIN 4753 Parte 3 e UNI 10025 regulations, thermic insulation in hard thick expanded polyurethane (PU) without CFC and HCFC;
External coating in metal sheet varnished with epossidic powders (white) and plastic material (ABS);
Mounting brackets for wall installation;
Magnesium anode for corrosion prevention;
Hydraulic links located on the bottom part;
Non submerged capacitor wrapped around the steel boiler;
Integrated electric resistance 2 kW 230 V~ activable through switches located inside control panel for heating of ranging from 55 °C (max temp with heating pump only) to 75 °C;
Rotary compressor for maximum efficiency and reducing noise;
Centrifugal fan for canalization of the necessary air for the proper functioning of the heating pump.
Winged pack evaporator;
R134a ecological cooling fluid;
Complete electronic control with control panel equipped with LCD touch display, water temp gauge, bright functioning heating pump and electric resistance gauge, commands with relative gauges for the activation of the various functioning modes, warnings for eventual alarm malfunction, such as: antilegionella function, setting / display of date and hour, hot water temp setting, timer and holiday function settings.
Available documents
6. Scaldacqua a pompa di calore, accumuli inerziali e bollitori ACS per pompe di calore EMMETI 2020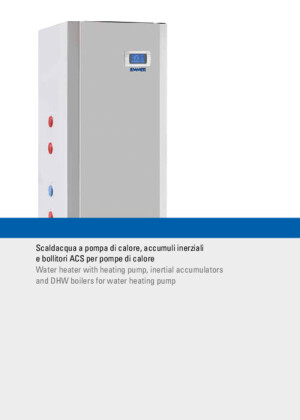 Commercial files - IT

Haven't found the documents you were looking for?
Request other documents
Request information for:
WALL-MOUNTED ECO HOT WATER Heat pump heaters EMMETI 2018