ECO HOT WATER Air-water heat pump for domestic hot water with integrated solar panels EMMETI 2018
Air-water heat pump for domestic hot water with integrated solar panels.
Description
---
The EMMETI heating pumps have a square form factor for better installation in all spaces.

To install the device you only need to link the intake and exit water tubes, the condensation dump and the home electric system.

The EQ 2018 and EQ 3018 ES water pumps take the heat from the surrounding air and cede it to the water inside the tank, reducing costs for heating of water which means a great economic saving, up to 70% in comparison with traditional electric water heaters.

Moreover, the Eco Hot Water heating pump, coupled with the FEBOS accessory (not included), can be remotely activated through smartphone/tablet; free app downloadable from the Apple Store and Google Play.

Energy saving gets Economic saving
On the basis of the European data it is clear that the annual energy consumption for domestic hot water production of an average family composed by 3 persons is equal to 1.840 kWh/year.

Technical features
---
EQ 2018 model
Capacity 200 liters;
S235 JR steel boiler with internal inorganic coating.
EQ 3018 ES model
Capacity 300 liters;
AISI 316-L stainless steel boiler with internal pickling coating;
Exchanger for solar integration with a surface of 1 m2, water content 3,8 lt
Both models
Insulation in rigid polyurethane foam (PU) of high thickness and without CFC and HCFC, average thickness 50 mm;
Anticorrosion electronic anode (2 in the 300 lts mod)
External painted sheet metal with epoxy powders (silver gray color);
Stainless steel heat exchanger for solar or boiler integratio;
Touch screen control panel, backlit to allow the different working parameters settings within 24 hours;
Hydraulic fittings placed on the left side;
1.5 kW 230 V~ electric heater integration. Manually activable through control panel or automatically as heating pump integration or anti-legionella treatment;
R134a ecological refrigerant fluid;
Rotary compressor for the maximum quiet operation;
Centrifugal fan;
Condenser wrapped around the steel boiler (not immersed in the water).
Available documents
6. Scaldacqua a pompa di calore, accumuli inerziali e bollitori ACS per pompe di calore EMMETI 2020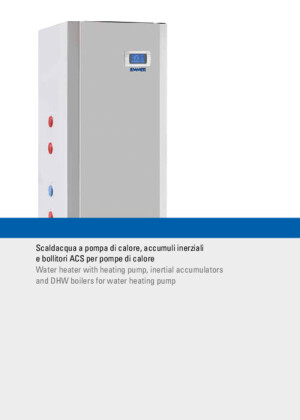 Commercial files - IT

Haven't found the documents you were looking for?
Request other documents
Request information for:
ECO HOT WATER Air-water heat pump for domestic hot water with integrated solar panels EMMETI 2018