Focus companies
Thermoglance: the transparent radiator that matches any interior
Glass radiator Thermoglance: design and comfort made in Italy
Nowadays, well-furnished apartments can be heated with very elegant glass elements, offering a pleasant sense of warmth.
Asola Vetro
, an Italian company specialized in heated glasses, presents a
design radiator
that's going to change the way you think about domestic heating. Introducing glass as a precious element, and radiant heating at the same time, this piece of Italian design gives both aesthetic and comfort, with very
low consumptions
.
Glass for heating and furnishing
Real technological advances are those to the benefit of all, and where the technology used cannot be seen.
Thermoglance
is one of them.
Glass
, which is a prestigious furnishing material, is now used also for
heating panels
. A veritable revolution, since classic, modern or unconventional radiators have always been made of metal. Therefore, the most high-tech and well-furnished apartments can now be heated using an elegant radiator, made of glass elements, whose transparency and physical appearance will improve the aesthetics of your room.
Transparent towel heater
Just like the sun, Thermoglance
heats up the room
, creating a very pleasant and warm environment
in a few minutes
, independently of the surrounding atmosphere, and also saves energy, thanks to maximum use efficiency.
Thermoglance® - Design, Comfort, Energy Saving
Through Thermoglance, you can warm up your bathroom in a few minutes, or create "
heat islands
" in the house, which are very nice in mid-season, without turning on the central plant.
This
design transparent radiator
can be easily fixed to the wall, in the child's room, in front of your bed, or in the bathroom, for example, and everything will be heated in a matter of minutes, keeping humidity levels within a healthy range.
This
modern glass plate
looks like a single unit extremely compact and indestructible: once fixed to the wall or on the floor, it will no longer need any maintenance or periodic inspection.
Thermoglance has an excellent efficiency of approximately 99%, since it consumes just only what is necessary in order to obtain the ideal temperature.
You can get even more savings by using energy from
renewable sources
, such as PV panels.
Keep in mind that the cost of an electrical installation is approximately ¼ the hydraulic equivalent, while a combustion plant hardly exceeds the 80% efficiency.
The six different models of
Thermoglance heater
s vary in size, in order to meet the needs, wants and demands of demanding customers.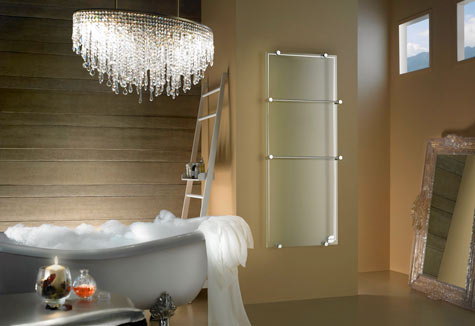 DOCUMENTAZIONE DISPONIBILE